Paul: When I first met Allan in New York City in 1975, I had been looking for a technique teacher for several years. I was passionate about Contact Improvisation, and working with Meredith Monk. While I was performing and teaching a lot, I still felt I needed thorough and ongoing body-training. Allan taught classes which combined experiential, somatic connections to the body, energy work, clear alignment and placement principles, and improvisation. I was happy to find him, through Anne Hammel, because I could now gain technical clarity without having a particular style stamped on me. His classes helped greatly. I had found a dance teacher I could commit to.
He died very suddenly of a heart attack on a subway platform in 1978. The class was in shock. As a way of dealing with the grief of his sudden departure, I invited the class to come over to my studio on Greene Street during the regular times we had met with Allan. When the class came over, I started reconstructing and sharing Allan's material. We warmed up, and I organized the time we spent together. Soon I reaized that I was actually teaching something that resembled his class. The students started bringing friends, and soon I had a hefty group in my studio. This was a surprise; all I knew was that I had to continue exploring Allan's work with others. The class was not planned. It was out of our raw need. I don't know if he would approve of anyone teaching his work. I don't know if he would approve of what I'm doing with it. I hope so. When he taught, his particular creativity was always present in class; I strive to achieve something similar in my teaching of his work.
After a few years of teaching his work independently in New York, Canada, and Europe, I was hired as an adjunct faculty member by New York University's Experimental Theatre Wing (ETW) in 1983. Mary Overlie and Wendell Beavers - two of the program's Movement faculty - imagined that my teaching would be appropriate for the students, who were training in post-modern dance as well as contemporary theatre and voice work. During the last thirteen years, Allan's work has grown to become an integral part of our core curriculum at ETW.
Previously, I had developed performing material out of Allan's work in collaboration with Le Schaetzel. We did a piece in 1984 at Dance Theatre Workshop called Circa 1950-51. Working with you, Brendan, on Almost Rapture this year and other projects, I can see how this work continues to inform my performing and choreography. This interview is appropriate since his work is mature, but has had no written documentation.

Brendan: Could you talk a bit about Allan's influence?

Paul: When he died, members of his class rescued a lot of his dance memorabilia - notes, photos, journals,press clippings, books.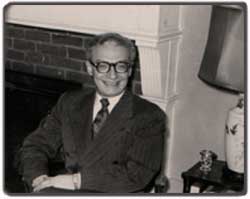 Those, combined with anecdotal stories told in class, are what I know about his past.
The story of how a midwestern kid from Terre Haute, Indiana, grew to become an internationally known dancer at an exciting time in dance history, and then develop a pioneering body of teaching, is tantalizing yet incomplete.
Allan started dancing in 1909 at the age of three and taught his first ballet class at the age of twelve.
At that time, to become a dancer meant that you became a ballet dancer or ballroom/exhibition dancer. He was both.
He danced in New York throughout the 1920's, becoming more interested in modern dance, believing that it would revitalize ballet. Living in Germany from 1928 to 1932, he studied with Mary Wigman, Rudolph Laban, and Javanese dance master Radam Mas Jodjana. Jodjana, I think, contributed to the experiential and breath focus of Allan's later teaching. Allan also became the leading soloist with the Breslau Ballet. Unfortunately, this happy time came to a sudden close. Being half-Jewish, he fled back to New York in 1932 at the rise of Hitler.
Throughout the '30s, the WPA (Work Projects Administration) employed him to work with Doris Humphrey, and to do other projects. He also became a soloist with the Metropolitan Opera Ballet, a position he held for many years. I'm not sure, but it seems he taught consistently from this time until his sudden death in 1978.
Many kinds of people came through his studio doors as students: dancers, chiropractors and other bodyworkers, choreograhers, singers, actors, and those who simply wanted an effective dance focus. Over the years, his students included Tamar Rogoff, Lucinda Childs, Meredith Monk, Yvonne Rainer, Martine Van Hammel, Robert Een, Judy Padow, Marilyn Wood, Ellen Goldsmith, Andrea Goodman, Margie Gillis, Anne Hammel, Muna Tseung, Coralea Romanyshyn, Le Schaetzel and many others. Irmgard Bartenieff credited Allan for keeping her mobile in the face of arthritis. He was more than a dance teacher. His massage work in class was central to his becoming known as a healer as well.